Support the Movement
There are a number of ways that you can help the Dear Father Letters Movement such as donating your time, talents, or event space. We accept donations of all shapes and sizes. Every bit is appreciated and will surly be put to good use. Look below to find out some of the ways you can help support the movement.
The Dear Father Letters Movement has a number of moving pieces that help keep it going. Therefore, there are a number ways for you to help out! From PayPal donations and purchasing J. Ivy's latest book to volunteering your time, connections and/or abilities, all contributions are greatly appreciated.
Dear Father Letters will be delivering its message, by providing performances, workshops, master classes, facilitated Dear Dad dialogues, Book Concerts and speaking engagements throughout the country. Fatherhood is an important fabric in the structure of family & community life. We want to inspire people to break cycles of pain, generational curses and to help find forgiveness. We want to teach the art of letter writing, poetry, journaling and song writing to various participating groups. We want to give the art of writing therapy to those who need a new outlet of expression. Your support will help assist us in moving this community service effort and positive message forward. It will help us to buy books, journals, note pads, pens, event space and some advertisement materials. In some cases, it will help us in our safe travels and decent accommodations in each city we go to. Your help will be the one thing that helps move us further along in our mission to help people begin to heal in this moment of life. We just want to do our part in a big world filled with people who need upliftment. All monetary donations can be made via PayPal at the bottom of any page on this site. For your convenience, another donation button is located below. Thank you in advance for your help in this worthy cause.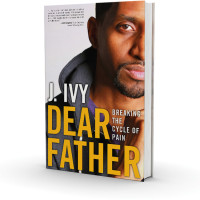 Poet and Grammy Award–winning artist, J. Ivy bares his soul in this inspirational memoir of pain transformed into healing and empowerment. Inspired by the poem he wrote, Dear Father: Breaking the Cycle of Pain is the book that started The Movement.
He's shared his story through his appearances on HBO's Def Poetry and his collaborations with Kanye West and Jay-Z and now it's yours to be inspired by in hard-cover form. Fused with his signature raw lyricism and street consciousness, J. Ivy's memoir shows what it takes to deal with your emotions before your emotions deal with you. His story is personal yet universal, and will inspire others to channel whatever pain they have experienced into their own powerful gift of expression. Purchase your copy here.
With so much success garnered from the Dear Father Book Concerts, it was only natural that the next step in The Movement be the AudioBook!
More info to come. Keep checking back for updates.
Check out some of our volunteering positions and if you are interested in supporting the Dear Father Letters Movement as a volunteer, please fill out the Volunteer Form below.
Volunteer Form
Check out some of our hosting requirements and if you are interested in supporting the Dear Father Letters Movement as a host, please fill out the Host Form below.
Host a Dear Dad Dialogue in your city and get involved with the Dear Father Million Letters Writing Campaign. The goal is to get one million people to write a letter to their fathers. Our theme is "One Million Letters Written, One Million Hearts Healed." One way we will do this by facilitating an organized conversation in different settings from living rooms, to classrooms, to churches, to conferences to college campuses and more. When you register your Dear Dad Dialogue with us on the National Dear Dad Letters Calendar, as a host we will send you a summary of ideas for making your dialogue a success. As a host you will, provide a space and time for the Dear Dad Dialogue to happen. You will also decide if your dialogue event will be a public one or by private invite only.
By agreeing to host a Dear Dad Dialogue, you'll identify yourself as a leader in your community or organization.
Click here in order to fill out the sign up form so that we can get you qualified to host: (Please allow 3-5 Business Days for Hosting Verification Approval) Once approved, we will send you the host care package.
Our Book Concerts are always a good time. Backed up by a live band, J. Ivy reforms his poems straight from the pages of Dear Father: Breaking the Cycle of Pain, bringing the book to LIFE! Contact us to learn more about bringing a Book Concert to a city near you.
J loves the kids! Sign your school up to host your own private Dialogue with J. Ivy!
Host Form
From individual small businesses to corporate enterprises, we have a number of sponsorship levels for you to consider. Please message us to learn more about which level would be best for you, or, kindly fill out the form below.
Sponsor Form